EN EL CIMAV MONTERREY CELEBRAMOS LAS FIESTAS PATRIAS

MAESTRÍA EN CIENCIA DE MATERIALES
Han empezado los cursos de Maestría. !Éxito a nuestros estudiantes!

DOCTORADO EN CIENCIA DE MATERIALES
Recepción de formato de registro: hasta el 29 de noviembre.

MAESTRÍA EN CIENCIAS EN COMERCIALIZACIÓN DE LA CIENCIA Y LA TECNOLOGÍA

Estatus trámites de cédula profesional
Noticias científicas
Membranes contain beautiful patterns - but their function is a mystery

Biological cells are surrounded by a membrane, and here some of the most important processes for sustaining life take place. There can also be something very beautiful happening in membranes, researchers from the University of Southern Denmark have discovered: Membranes can contain beautiful, mysterious patterns. Read more...

Boron nitride nanotubes - a new chapter in a nanotechnology 'super material' story

Tucked away in a small research park near NASA's Langley Research Center, the outside of the modern building looks pretty much like any new office. But just on the other side of the glass and concrete walls, there is a nanotechnology research facility buzzing with scientific and technological developments that promise to improve our world - and better equip us to visit other worlds. Read more...
Researchers a step closer to finding cosmic ray origins

The origin of cosmic rays in the universe has confounded scientists for decades. But a study by researchers using data from the IceCube Neutrino Observatory at the South Pole reveals new information that may help unravel the longstanding mystery of exactly how and where these "rays" (they are actually high-energy particles) are produced. Read more...
Más acerca de...
Síguenos
Recorrido virtual por nuestras instalaciones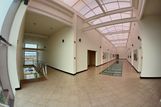 Nuestros datos de contacto: Alianza Norte 202. Parque de Investigación e Innovación Tecnológica. Apodaca, Nuevo León, México. C.P. 66600

Tel: +52 (81) 1156 0800, Fax.: +52 (81) 1156 0820.